| | | |
| --- | --- | --- |
| | | 2018  |
Saturday 19 May 2018
We take the 9.28am IC direct train service to Amsterdam Schiphol Airport.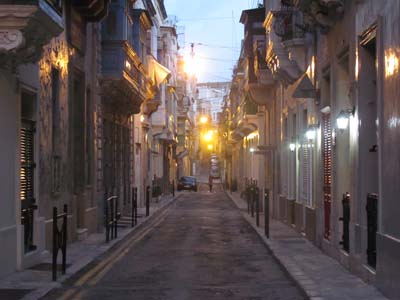 We check in, in the temporary departure hall 1a. In front of the Air Malta counters there is a huge row that is moving slowly. We are waiting for more than half an hour to 40 minutes before we can drop off our bags. Then we go through the security check. All my stuff  has to be taken out of the backpack. Then on to the B concourse. The boarding process is a bit messy. We fly to Malta in three hours and land at 2.50pm. Upon arrival everything goes smoothly and we get a new Ford Focus from Sixt. We drive to Cospicua (also called Bormla), where our apartment is located. We have rented through Mister B & B. Our host Kenneth is not there, but we are being let in by a neighbor. The apartment is fine. The elevator gets us directly  into our apartment.

We pick up groceries at the "Convenience store" in the neighborhood and around six o'clock we walk towards Victoriosa to have something to eat. We have  a drink first on a terrace and then have dinner at Osteria Ve. Good food and friendly service in this small local eatery. After dinner we walk back to our apartment. The streets are picturesquely lit.

Weather: sunny 22 degrees
Sunday 20 May 2018
We have br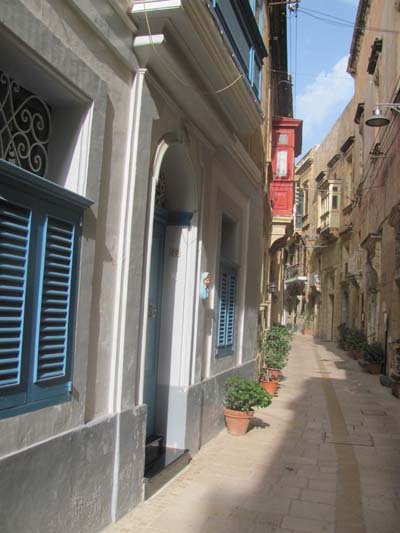 eakfast in our kitchen and then go for a walk through Birgu. Birgu town borders on Cospicua and, like Cospicua, belongs to the Three Cities, which lie opposite Valetta on the banks of  the Grand Harbor. We explore the narrow streets of Birgu. When we are done we drink coffee and walk back to the apartment. From there we take the car and drive to the Tarxiem temples. These are in a suburb. It is a temple complex from the megalithic era and about 3000 years old. A tent canvas is suspended over the excavated ruins. It has started to rain and there is some thunder roaring in the distance.

We drive to Marsaxlokk. This is a fishing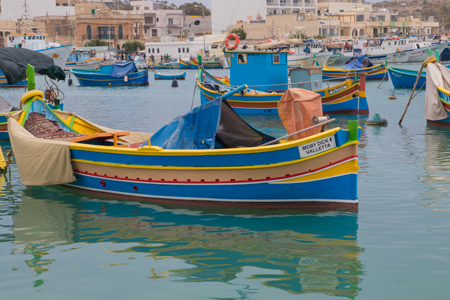 village, but on a Sunday it is overrun by tourists, who swarm at the fish market on the quays of the harbor. Marsaxlokk is the home of three quarters of the Malterzer fishing fleet. You can hardly move through the market. After a short round along the harbor we drive to Peter's Pool, a lagoon on the coast just over the hills. The sea is rough and the waves crash against the edges of the lagoon. Nobody dares to  jump in the water.

We drive back to Marsaxlokk and have lunch at La Reggia. Good food, but the lunch dishes are a bit small. After lunch we drive back to the apartment in Cospicua.

In the evening we take a ferry to La Valletta and drink a cocktail at the gay bar Monaliza. Afterwards we eat a pizza in a cellar restaurant.
Monday, May 21, 2018
After coffee we take the ferry to La Valletta again. We take the elevator to the Upper Barakka gardens (included in ferry ticket), where we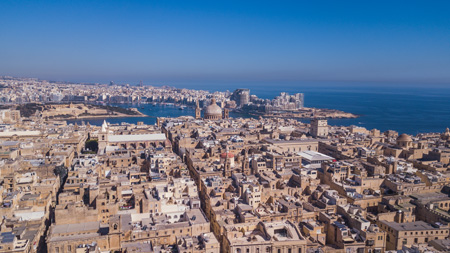 meet Benjamin, our guide. He tells us hundreds of stories about the history of Malta, while we still look out over the Grand Harbor. We walk through the city and see various palaces and Auberges of the Maltese order and the Parliament building designed by  Renzo Piano. The Maltese or Knights of the Order of St John settled down in Malta in 1530 when they were granted the rule by Emperor Charles V. They had just been expelled by the Turks from Rhodes. The Johanites started as a monastic order, which administered hospitals in Jerusalem for the pilgrims. During the crusades it became a military order. In Malta, due to the strategic location of the island, they gained a lot of prosperity, which can be seen in the palaces and administrative buildings that they built here. Then we walk across the Republic street towards the St John's Co-cathedral. We drink a cup of coffee first - without Benjamin - and then we go into the church. From the outside it looks sober and a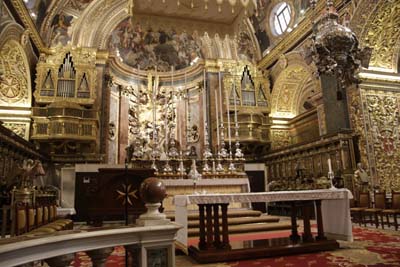 ustere. That is because of the architect the knights had commissioned. This was used to design fortresses.. Also the knights did not want to show outsiders how rich they were. The order had her own priests and outsiders were not allowed to enter the church. Inside everything that shines is gold. Excessive decorations and everything is covered with gold leaf. There are many chapels along the sides of the main ship, each for a branch or langue of the order. The order was organized into language groups, the so-called Langues. In a separate chapel hangs a painting by Caravaggio, the beheading of St. John the Baptist. The painter made the work here in the cathedral as a thank you for admission to the Order.

After the visit to the church we walk to the palace of the Grand Master, where the president of Malta now has his work address. The guard is just being changed. We'll be back later this week for a look inside. The tour is coming to an end and we are also a bit tired of Benjamin's talking.

We are going to eat at the old market hall. Great food and with a lively view.

We take the bus back to the apartment.

In the evening we eat at Del Borgo in Birgu. It is a cellar restaurant with a modern look. The kitchen is Italian / Maltese with international influences

Tuesday 22 May 2019

We drive to  to M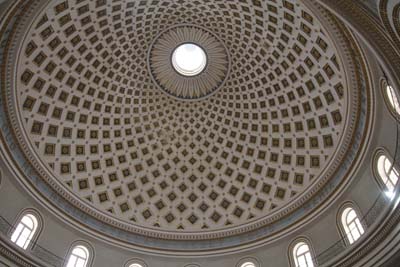 osta in the middle of the island by car. Here is the Santa Maria church from the 19th century with a dome, which is one of the largest in Europe. The dome covers the entire church. The height of the dome is 61 meters on the outside and the diameter is 39.6 meters. There are chapels in the sides and there is a sacristy. In 1942, a German bomb fell on the church during Mass, but it did not explode, causing no casualties and the Church was saved. A copy of the bomb is on show  in the sacristy.

After Mosta we drive to Mdina. This was the capital of Malta until the 17th century, when the Knights of Saint John moved the capital to La Valetta, so that they were closer to th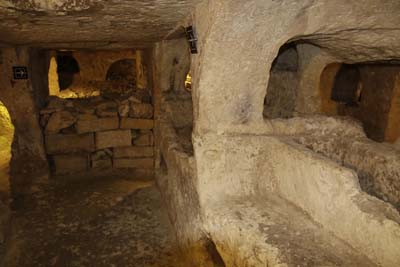 eir fleet. The city is very strategically perched on a hill and overlooks the surrounding area. We drive to the central parking lot and first enter Rabat, which is attached to Mdina. We walk to  the St Paul Church, which lies above a cave and a catacombs system, which was used by the early Christians as a cemetery during the time of Roman rule, but also afterwards. St Paul had a  shipwreck near  Malta in 60 AD and reportedly preached in a cave here - now under the Paul's Church. For 5 euros you get access to the catacombs, the Paul cave, the church and the museum. The catacombs are low and it is difficult to stay oriented. In the cave is a statue of the a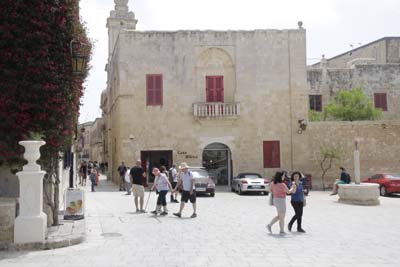 postle and there is an oil lamp in the shape of a ship.

We walk to Mdina. Mdina is a walled city with a (drained) city canal around it. A park has now been laid out in the canal. We walk through the city gate and through narrow streets we arrive at the Co-Cathedral of Mdina (partner church of that in La Valetta). In the church a number of  notables and nobles are buried under polychrome gravestones. No knights, they are buried in La Valetta. The church is beautifully decorated, but no comparison with that in La Valleta. After the church we walk to a restaurant in the city wall in the Palazza di Piro. Prince Charles of England and his Camilla were here too, the photos on the wall bear witness to that. We have lunch here. Erik takes a French burger, I a Maltese one. Generous portions and filling. After lunch we walk around in Mdina and then drive back to our apartment.

In the evening we eat again with il Borgo.

Weather: sunny, 22 ° C