Friday, September 12, 1997
At breakfast it is still chilly outside. We are on our way for a tour of Capadocia. Through Mustafapasa we get to Celin. Here we find a rock church with monastery. It completely scaffolded, but visits are possible. A small boy, Osman, shows us around at high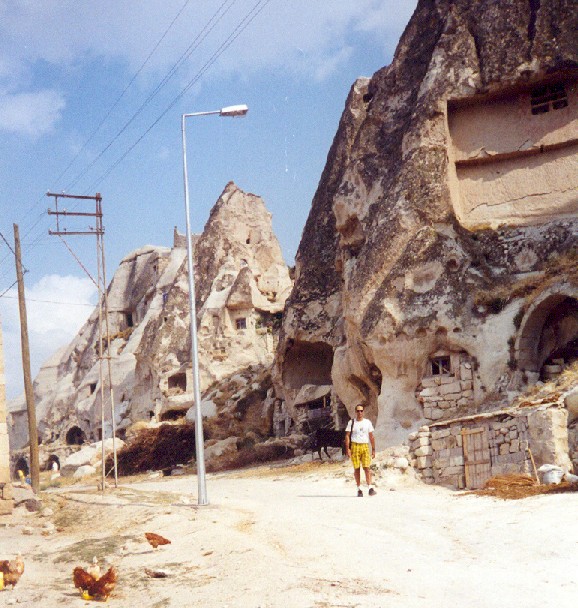 speed. With his hands he explains what we are looking at. On we go to Songanli in the valley with the same name. We have to pay entry to the valley. In the hills around Soganli there supposed to be a number of rock churches, but I manage to find only one. After that we drive on to Derinkuyu. Here we take a look at the underground city. In it's heydays more than 30,000 people lived here underground. The descent is steep, low and narrow. I almost get stuck in a narrow tunnel while trying to get past a fat German. After a bit of manoeuvring we manage to pass. The caves are well lit. Very special. Avonos is the next stop. It is famous for it's ceramics. We conclude the tour in the Pasabagi valley, where once monks took refuge in chimney like rocks. An exhausting day it has been.
After dinner we try the nightlife, but the attractive club "Barium" is completely empty. The music is good and old, but we pack it in around 10.
Weather: sunny 25°; at night it cools off
Saturday, September 13, 1997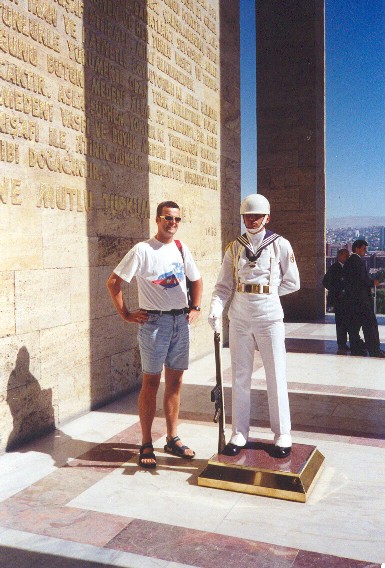 The distance to Ankara is not that big. We arrive around 1pm. The traffic is very hectic and we are relieved to arrive at the hotel safe and sound. We take a cab to the Atatürk mausoleum. A grand complex. We watch a changing of the guard, carried out with appropriate pomp. At the mausoleum there is also a museum devoted to the national hero, in which all kinds of paraphernalia are on display. Everything from his shaving gear to his winter coat. From rowing machine to Limo. We take a cab into the city centre. On the roof garden of a department store we take a drink and enjoy the traffic chaos downstairs. Erik gets a stale beer, I take a Raki, the Turkish version of Ouzo, we know from Greece. We shop a little. Ankara has a very Western shopping centre where you can buy anything. At night we eat in a restaurant in the citadel. The number of dishes we're served (many of which we did not order) overwhelms us. The waiter is so kind to poor our wine into our neighbours' glasses. The bill is somewhat unclear, but correct as it turns out.
Sunday, 14 September 1997
The road from Ankara to Bursa is busy and dangerous. Too narrow for so much traffic. The dual carriageway is under construction, but too late for us unfortunately. In Bursa it is a hell of a job finding the hotel. The map in our guide is not very clear and the town is infested with one-way streets that stop you from getting where you want to go. On top of that, signs with street names are gold dust. We try to ask for directions, but people here have problems reading maps. One guy even holds the map upside down. After a lot of irritation we get at our destination. A few more towns like these and we'll be ready for marriage counselling. We take a short rest before heading for the cable lift up the mountain. In the lift the view is magnificent. Once up there we're a bit disappointed. At night we have dinner in a simple restaurant.
Monday, September 15, 1997
The day begins chilly and cloudy. We take a cab to the Yesil district of town. Here we find a beautiful mosque from the 15th century.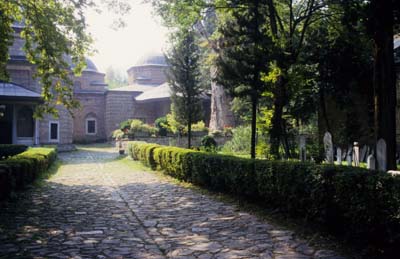 Next to it is a tomb of Sultan Mehmet I. The tombs are nicely decorated with turquoise tiles. We have an instant coffee for, at least by Turkish standards, a ridiculous price of £1.50 ($2.50) for two. Then on with a cab to Muradiye. Here we look for the 10 tombs of as many Sultans. Each day three are open to visitors. Today Murat II, Sezahde Mustafa and Cem Sultan are "on duty". The mosque next to the tomb complex is also worth a look. The Muezzin (warden) shows us around. He has an English language guide in which he occasionally points out a word. For lunch we choose a local speciality: Iskender Kebab. The restaurant we choose serves only this and nothing else. It a kebab served with cream. After lunch we go to the Yeni Kaplica.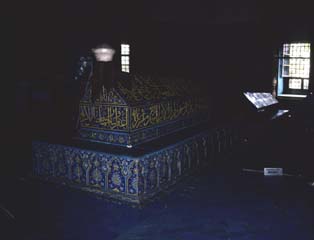 The old bath of Bursa. It's a special bath. One of the few with a pool in the central room. Normally the marble plate that heats the room and on which you get your massage takes up this space. After our bath we are dried off and wrapped in, after which we can sort of "chill out" on a bed in a kind of dormitory. Later we wander around the Kultur Parki and have a drink on a terrace. The other guests, mainly boys, are fanatically playing backgammon. Sets are provided by the cafe. At the football stadium (where Holland was put to shame a few months before by Turkey) we take a taxi to the hotel.
The weather has been a bit unstable today. Up till now we've had sunshine every day, but today started out cloudy, although it cleared up later in the day. Warm, 25°.
Tuesday, September 16, 1997
Today we move on to Istanbul. The roads are busy, but we make good progress, as most roads are dual carriageway. We take a ferry, in order to shortcut the road around the sea of Marmaris. We arrive at our hotel around noon, close to the Sultanahmet mosque. The room is tiny, but the hotel is centrally located in a quiet neighbourhood.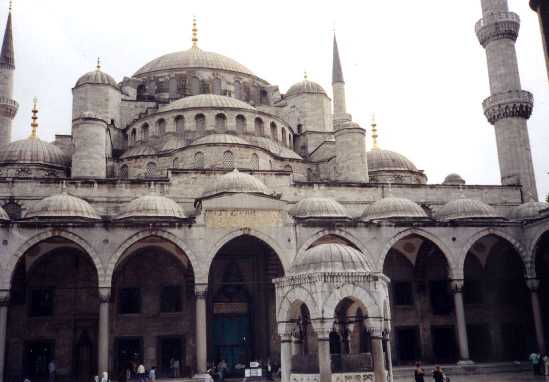 In the Sultanahmet mosque a service is underway and we have to wait. Once inside the sheer size of the place is striking. Two thirds of the mosque is not accessible for infidels like us. Then on to the Aya Sofia. In the park between the two buildings, we are repeatedly stopped by dealers, "guides", and other characters. Many of whom who are not even 12 years old yet. The Aya Sofia is impressive as well. On the upper gallery there are some precious mosaics.
Then it's time to call Turkish Maritime Lines to inquire about the possibilities of a ferry journey to Izmir. It can't be arranged on the phone. We have to come over. Once there, everything is arranged within ten minutes. On our way back to the hotel, we are a bit unfortunate with the cabby. He pretends not to know the way to the hotel and takes us on a tour through Istanbul. We drive around a great deal, without getting any closer to the hotel. We get out and walk instead.
At night we eat at the Hippodrome Square and go on mission to find a gay bar. But apart from us there are no other guests to admire.
Weather: cloudy 18-22°.
Wednesday, September 17, 1997
It takes a lot of effort finding the entrance to the Topkapi palace. And now we've found it takes an equally amount of effort to get in.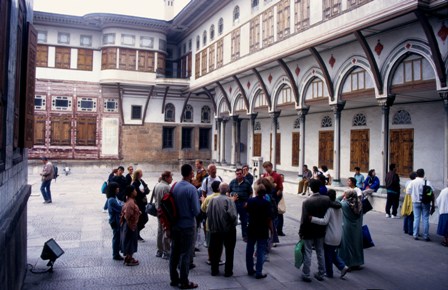 You have to put your bag in an X-ray machine before you can check through the ticket inspection. While you're waiting for your ticket to be stamped, your gear is already waiting at the other side of the machine, ready to be picked by anyone who takes a fancy. There is great anxiety among the visitors who want to be rejoined with their dear belongings as soon as possible. In the palace there's a lot to see. Many jewels and artefacts of the Sultans. Even the famous Topkapi dagger (from the movie) is on display and the fifth most valuable diamond in the world. We have lunch in the palace cafeteria and get in line for a visit to the harem. After a one hour wait, we're whisked through the thing in no time.
At night we take the tram, the cable car and another tram (this time an antique one) to the Taksim Square. We have dinner in a Chinese restaurant (for a change). The food's fine. A search for gay bars turns out to be fruitless. Just one restaurant with bar. The rest on our list is untraceable, closed or seedy looking. Back to the hotel.
Weather: cloudy 19°.
Thursday, September 18, 1997
Today we go to the covered bazaar. My 10-day intestinal problems are getting the better of me and I feel a bit weak. The bazaar is a hectic place. You can buy anything: clothes, jewellery, furniture and god knows what. We buy tea glasses, a sweater and some things for our mothers. Bargaining is compulsory and Erik is much better at it than I am. It's nice though. The salesmen do their utmost. We go back to the hotel to take a rest. Then we are off to the Cagaloglu Hammam (Turkish bath). We take the full treatment. On the hot marble plate we're washed and get a massage. It is a bit rough at times. Erik's masseur even stands on him and walks from his buttocks to his shoulders. Mine (a real heavy weight) fortunately knows his limitations. Then a Keze (scrub) follows and more washing. After that we can cool off a bit. The masseurs beg for a tip. At half past four we're out on the street again. A bit lethargic, but refreshed. We have a beer.
At night we eat at the Borsa Lokantasi. Fast food, Turkish style.
Friday, September 19, 1997
Friday is our last day in Istanbul. We head for Taksim again, with tram, cable and tram.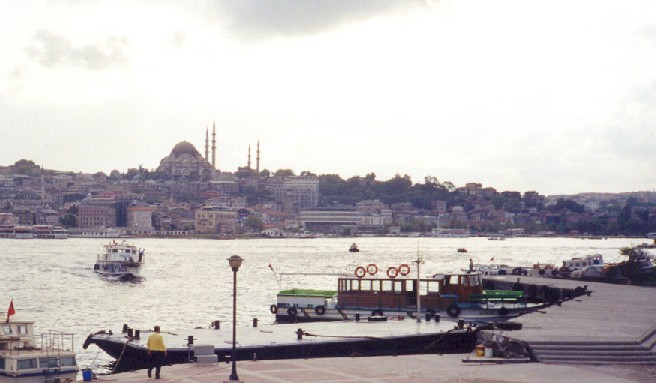 Well… the antique tram is not running just now. So we walk the very long shopping street up to the square. On this street there are a number of consulates, among which the Dutch. On Taksim we drink a coffee/tea. With the same old tram (in service again) we go on to the Galata tower. An old tower with tremendous views over the Bosporus and the Golden Horn. We go back to the hotel to get our bags and drive to the port. We have ample time (two hours early). At 5:45pm the ship sets out for Izmir. For dinner we have to join other people at the table, who unfortunately only speak Turkish. At night a pianist plays (and sings) in the lounge. We hit the sack around 10.
Saturday, September 20, 1997
We're late for breakfast, but Erik manages to get us some nevertheless. Around noon we moor at the quay in Izmir. Then we drive down to Kusadasi. Our apartment, which we've booked for our last week in Turkey, is easily found. We go and return the car. We're a bit nervous. The car was badly smeared with hot tarmac on the fourth day. But the car is not even given glance and we're off.
Kusadasi is Turkey's Benidorm. Many "English and Irish" pubs. Even some Dutch eateries and German coffee. But there is also a gay bar, full of cheerful lads. We go home way after midnight.
Sunday 21 September through Friday 26 September 1997
The week is spent in relative idleness. Either at the pool or on the beach. On Tuesday we visit Efeses, the old Roman town. We start at the north entrance, situated much higher up than the southern one and work our way down. The town has left beautiful ruins.
Especially the senate and the amphitheatre are impressive. We run into two guys who stayed at the same hotel with us in Istanbul. It's very busy in Efeses, but we're told it is nothing compared to high season.

We start most evenings on a side walk cafe with cocktails. Then we move on to look for a restaurant. The choice looks wider than it really is. You should not look for much quality or authenticity. Runners are talking you into their restaurants everywhere.
Still Kusadasi is ok for us. We can take a rest from it all and get refreshed before facing the harsh Dutch reality back home again.
Saturday, 27 September 1997
We're picked up some time in the afternoon by a small bus that takes us to the airport of Izmir. At the end of the afternoon we fly back home with Air Holland's flight attendants, who are a bit too clever to be nice. End of a nice holiday.